7 beverage suggestions with Bubbletea2go ™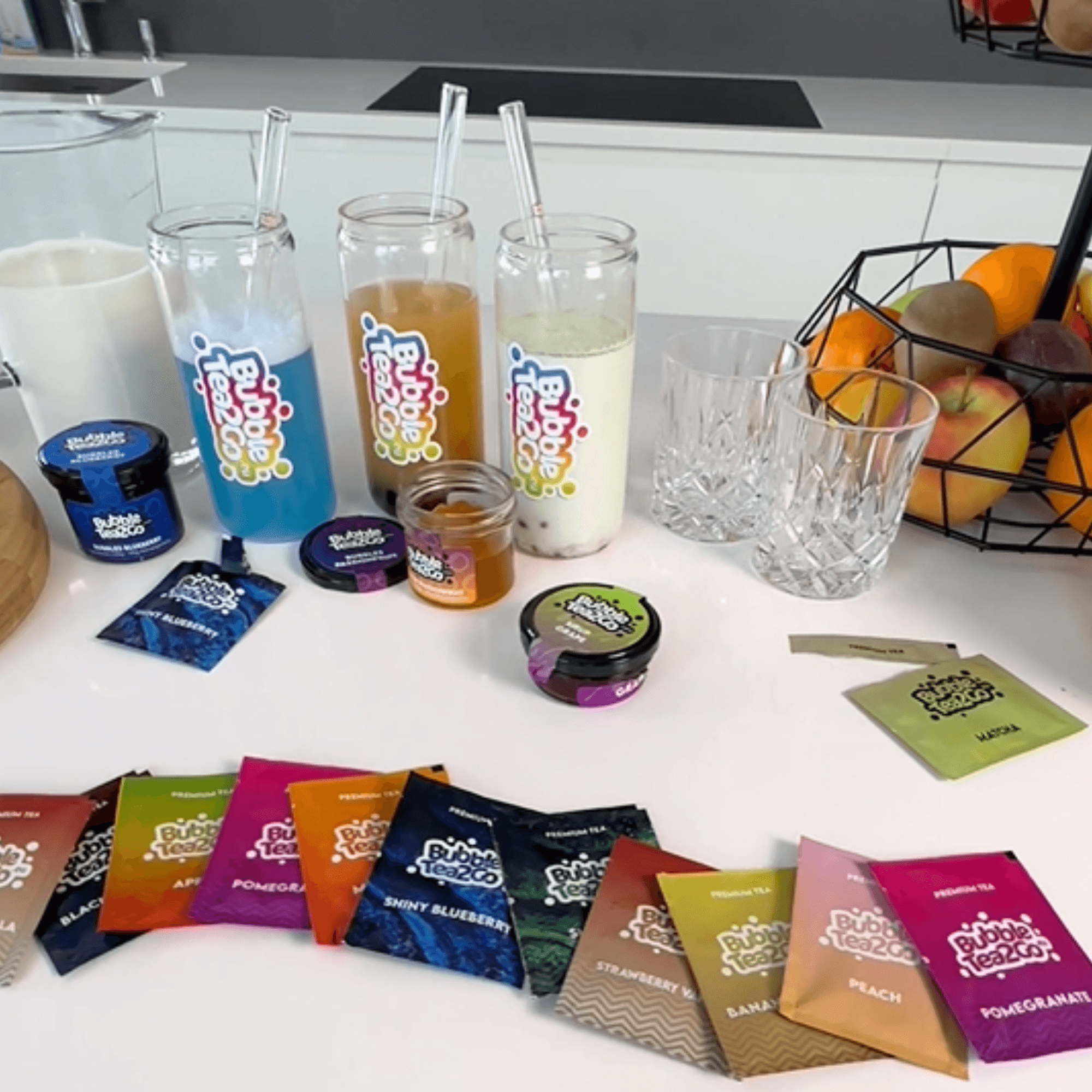 A blog article
We want to inspire you in this blog article & share our ideas with you. For this we wrote down 7 drinks suggestions for you. Have fun reading through.
Beverage proposal number 1:
The classic bubbletea2go ™ milk tea -A classic milk tea with bubbles is the well-known bubble-tea classic par excellence. Refreshing and sweet, with milk and the pleasant taste of our premium tea powder. The whole thing is rounded off by our bubbles.
Beverage proposal number 2:
Matcha milk tea - A Matcha Bubble Tea is a good choice for those who want a sweet green tea taste. The Matcha taste fits perfectly with all bubbles and ensures a unique taste experience.
Beverage proposal number 3:
Strawberry Mango-Lush-If you want to try a refreshing and fruity option for the summer, try a strawberry mango-lush. Simply order Strawberry products in the shop and combine them with mango products. With the perfect balance of sweet strawberries and juicy mangos, this bubble tea is a refreshing pleasure.
Beverage proposal number 4:
Milk replacement bubble tea -The milk set bubble-tea has a nutty, slightly sweet taste that fits perfectly with the bubbles. A delicious and unusual taste experience that is definitely worth trying. Simply combine either almond milk, soy milk, oat milk etc. and mix them with premium tea powder + bubbles.
Beverage proposal number 5:
Shiny Bubble Tea - Our Shiny Bubble Tea is a special & unique experience for children and young people. All of our Shiny effects are provided with a special, glittering effect and have a unique glitter when stirring them & mixed up. You can choose between Shiny Blueberry Premium Teepulver & Shiny Kiwi Premium Teepulver. We recommend mixing with water.
Beverage proposal number 6:
Refreshing syrup drink - Do you need another refreshing alternative for the summer? Feel free to try mineral water and combine with any syrup. The mineral water gives your bubble tea the necessary freshness. To do this, give our bubbles and add ice cubes to round off the whole.
Beverage proposal number 7:
Cocktail bomb - Try our cocktail bomb with our cocktail Premium Teapulver. You can best combine ice cubes and fresh fruit. You can mix in fruit or as a snack for by the way.